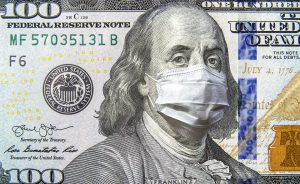 Your credit union is here to help relieve some of the stress of your financial worries during these challenging times. We have specific solutions for members and others in the community who are facing mounting financial strains as a result of the coronavirus outbreak. Benchmark FCU is here for members during the times they need us most.
Here are five suggestions for easing your financial stress with the help of Benchmark FCU
Take advantage of Benchmark's VISA Platinum Credit Card 0% APR* for 12 months offer. Benchmark FCU is now offering a 0% APR* for 12 months on our VISA Platinum Credit Card. Not only does it provide you with a 0% APR*, but it also benefits borrowers with a $0 balance transfer fee and $0 annual fees. Once that 0% APR* expires, the rate converts to Benchmark's VISA Platinum Credit Card fixed rate; that member qualified for at time of card opening. It's ideal to get you through with expenses now or for a balance transfer option. After all, it wasn't that long ago that we were all holiday shopping and celebrating…what a difference a few short months can make. Many of us may still have some lingering high-interest credit card debt, so there's no better time to transfer those balances. Tap to learn more about this special offer. You can apply for the VISA Platinum Credit Card quickly and easily right online.
Refinance high-interest Mortgage and Auto Loans. Mortgage rates are low, which makes it an ideal time to consider refinancing. Especially if you've found yourself struggling to make high monthly mortgage payments. A reduction in the interest rate and perhaps even a change in term can help you find a payment you can live with. Best of all, Benchmark FCU is currently offering a $500 Lender Credit when closing a 10 or 15-year fixed loan or a 5/5 ARM. This $500 Lender Credit promotion is subject to change at any time without notice, so act now. Depending on your home value and mortgage balance, you may even be eligible for a cash-out refinance, which will give you some extra cash to help lighten your current financial burden. Tap to view our mortgage rates. The same goes for a high-interest Auto Loans. Looking to reduce your monthly payment? Call us at 610-429-1600 and speak to a Benchmark Representative about an Auto Loan Refinance, today.
Tap into the equity in your home to access the cash you need today. If you're a homeowner, you may already have significant equity built in your home. If that's the case, a Home Equity Fixed Loan or HELOC (Home Equity Line of Credit) might provide you with the funds you need to carry you through these rough financial times. Benchmark's Ultimate HELOC provides consumers with a low introductory rate of just 1.99% APR** for the first 6 months. Borrowers will have their choice of two payment options – Interest Only or Principal and Interest. You can learn more about both of the repayment options and complete details via the link above.
Utilize low-interest Personal Loans and Personal Lines of Credit to get you by. If you've found yourself out of work, but you know it's only temporary, a quick fix for cash may be a Personal Loan. A low-interest Personal Loan can give you the extra cash you need to get by for the short term. Click here to learn more about our extended Winter Wishes Personal Loan promotion.
If you haven't already done so, enroll now in online and mobile banking. You can access your accounts anytime, anywhere. Take full advantage of online bill-pay and mobile deposits. All of these services enable you to limit your trips and exposure to others in this important time of social distancing.
Contact Benchmark Federal Credit Union for help
Living and working in the same communities as our members, we understand the challenges you are facing right now. Our lobbies may be closed, but we are still here ready to serve you. It may seem like the world has come to a halt, but your bills haven't. Call 610-429-1600 to speak to a Benchmark FCU Representative and learn more about what we can do to help you during this difficult time.
*APR = Annual Percentage Rate. Rate subject to change & based on an individual's credit history. 0% Intro Rate is valid for purchases & balance transfer from other institutions within 90 days from card opening. The 0% rate will be in effect for 12 months from first qualifying transaction within the 90-day period & after 12 months the rate on all unpaid balances will convert to the rate member qualified for at card opening. Credit Card Special is only valid on new VISA® Platinum Cards & subject to expire without prior notice
**APR = Annual Percentage Rate. Rates are subject to change and based on an individual's credit history.